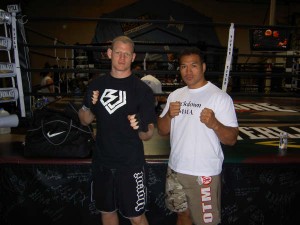 Gareth has been training martial arts for over 20 years with great success. He started out training in Goju-Ryu Karate where he obtained the rank of black belt and represented New Zealand in sport karate. He then trained and competed in Kickboxing and Muay Thai, where he won a New Zealand title, fought professionally and was ranked number one for his weight for three consecutive years.
Gareth is now one of New Zealand's most well respected Mixed Martial Arts Coaches ("MMA"), having trained two New Zealand Champions and the number one ranked MMA fighter in New Zealand for 2008. Gareth is also a Brazilian Jiu Jitsu ("BJJ") Purple Belt and trains in Freestyle Wrestling.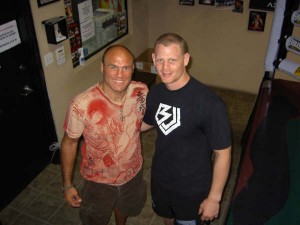 Gareth has trained with the best in the business. Late last year he spent time in Las Vegas, training with multiple UFC and IFL fighters at the Xtreme Couture Gym. This training included live wrestling drills and MMA sparring with UFC legend Randy Couture, one on one training and sparring with K1 legend Ray Sefo, and BJJ training with world champion Robert Drysdale.
With his proven track record of success in competition and as a trainer, Gareth is now using his skills to train people for impact and combat sports, and anyone looking to spice up their current training. Gareth has a unique teaching style and can provide a combination of technique and conditioning that will take you to the next level.
Gareth's Achievements
* Super Cruiser Weight NZ Kickboxing Champion
* Professional Kickboxer
* Ranked No 1 New Zealand Super Cruiser Weight for 3 consecutive years
* Trainer of 2 New Zealand MMA Champions and the 2008 pound for pound best New Zealand MMA fighter
* Trains the Wellington Lions in Combat Training
* Black Belt Goju Ryu Karate
* Represented New Zealand in Sport Karate
* Numerous national and regional Karate titles
* 2nd at the Nationals in Freestyle Wrestling, 120kg division 2012
* New Zealand Club Champion in Freestyle Wrestling, 120kg division 2012
* BJJ Purple Belt.
* Trained with elite fighters from K1, UFC, and BJJ