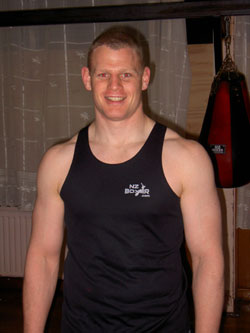 Gareth Lewis specialises in training for impact and combat sports. Gareth will use his unique skill set to make sure you reach your training goals. With a proven record of success as a competitor and as a trainer, Gareth has the skills and knowledge to take you to the next level.
Team Training
Gareth uses his skills to train people for impact sports such as Rugby and Rugby League. His training is so effective that the Wellington Rugby Union has brought him on as the Combat Coach. To give your team an edge, contact Gareth and get the Impact in your Team training.
Fight Training
Gareth has trained multiple NZ Champions and has trained with some of the top fighters in the world. Gareth has the technical and conditioning knowledge to ensure you reach your potential as a fighter.
Fight Training for Fitness
Fight training is one of the best fitness work outs there is. Gareth's fitness training will give you a full body work out that will get you the results you desire. This is one of the most enjoyable ways to get in shape.
Sports Conditioning
If you have specific sports requirements Gareth will design a training plan that is tailor made to suit your needs.
WOW - Work Out of the Week
Check out our WOW page to see some of Gareth's stellar workouts and sign up to get a new Work Out every week, straight to your inbox! WOW!!